Get connected to top-rated companies
Conservatory
Have you been wondering about conservatory prices and what each style of conservatory actually entails? We have put together this helpful article to give you the price range of common conservatory styles and what each of them means.
Conservatory Prices
It is incredibly difficult to predict how much your conservatory will cost you in total since there are many different factors that affect the final price. Conservatories do usually entail a fairly significant investment—the general range of price quoted being in the €6,800 to €23,000 range.
For a general overview, we display here the price range for the most common types of conservatories before explaining what each one represents in the next section. The minimum and maximum prices here depend on a series of factors explained in the conservatory prices article.
Conservatory Prices - General Overview
Lean-to conservatory
€2,500 - €12,000
Victorian conservatory
€3,400 - €17,500
Edwardian or Georgian conservatory
€3,300 - €18,000
Gable-fronted conservatory
€7,300 - €18,000
P-Shaped conservatory
€8,800 - €18,500
Suffice to say, if you want a bigger conservatory in nicer materials to be installed by the conservatory provider, you will be paying much more than if you install a smaller, uPVC conservatory by yourself.
Conservatory Styles
This helpful graphic shows generic versions of each of the most popular styles of conservatory. Beneath we explain more in detail what each version entails.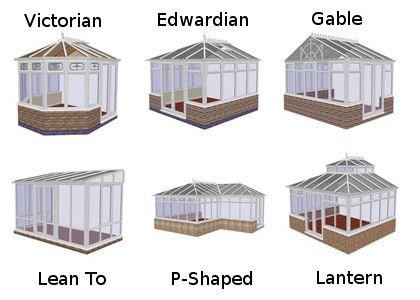 Lean-to or Mediterranean conservatory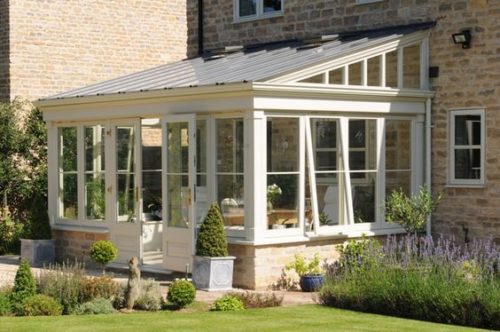 Rectangular floor-plan
Single-angled sloping roof section
The simplest design – can even be open in a "veranda" design
Good option on a tight budget
Cheapest of all designs – more expensive with a "dwarf-wall"
More easily installed (small or medium sizes can often be built without prior planning permission)
Edwardian or Georgian conservatory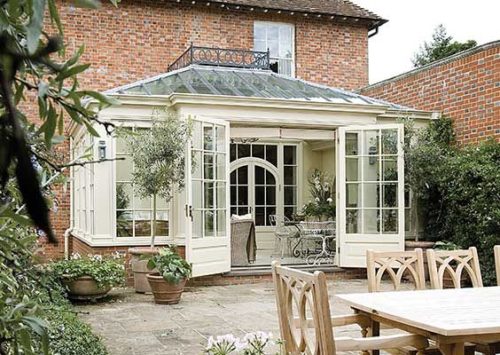 More traditional design with a rectangular or square roof
Straight lines and flat edges (not rounded or angled like a bay window or Victorian conservatory)
The floor space is maximised
Fit perfectly with more traditional properties as well as modern ones.
Victorian conservatory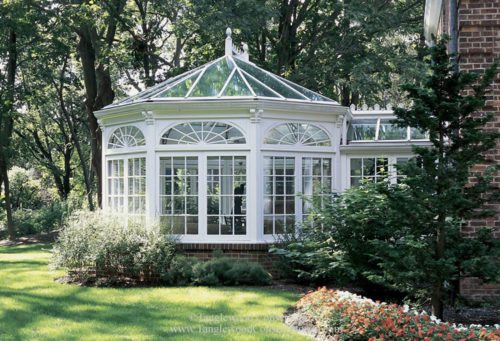 Roof lines that all extend from a single point creating a curve to the exterior walls.
The number of panels determines the curve of the walls
Best suited to traditional or period properties (19th century or earlier)
Versatile enough to work with any house – including modern designs
The front is rounded like a bay window
Pitched roof and ornate roof ridge offers a beautiful addition to any home
Gable conservatory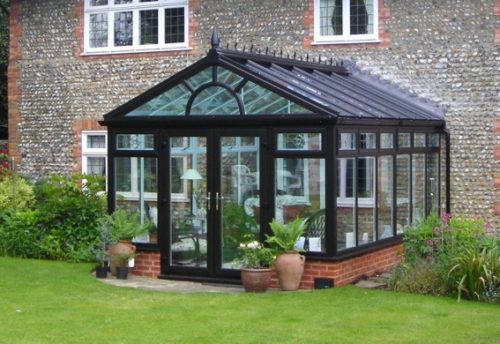 Upright roof giving the space an open and light feel
Square or rectangular shape, each side of the roof rising to the centre
The front can be aligned with the roof of your home so it looks entirely harmonious
Stained glass and Georgian bars make beautiful additions to the exterior look
T-Shape conservatory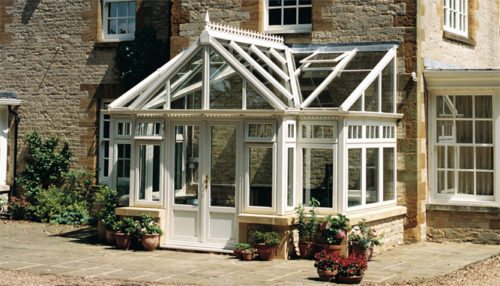 Very beautiful style that enhances your home in many ways
These are best suited to big houses and can be styled like Victorian, Gable or Georgian conservatories
They include a central projection and extend across the width of the building
Perfect for detached homes giving onto generous gardens
They can make a living room seem much bigger and brighter
P-Shape conservatory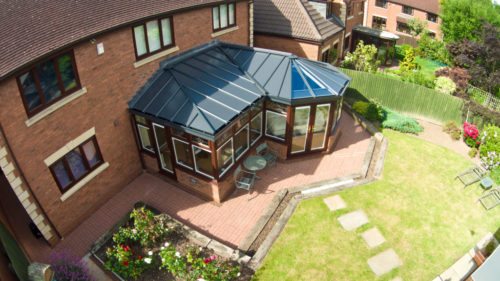 A mix of lean-to and Victorian design
Perfect for bigger conservatories
Creates two living areas, a long part perfect for dining and a round part that could be an ideal play area
Orangery conservatory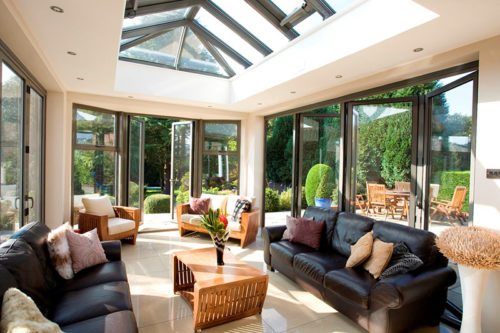 The most luxurious of all the designs
First invented to protect orange trees, now these offer light and space to modern homes
Includes a substantial main structure which requires extra building costs
Halfway between an extension and a conservatory
Can make for a well-illuminated eating area or extra living space
Get the best information and prices!
Your new conservatory will add so much to your home, but at what price? What can you expect from the whole process? These questions can only be answered in detail by a local provider, which is why we aim to put you in touch with a maximum of 5 conservatory providers who will give you bespoke quotes so you can get the best price. Take a couple of minutes to fill in our obligation-free form and save a lot of hassle in the long run.
Important considerations
The style of your house and garden
Before planning a new conservatory have a think about the materials, style, and size of conservatory that will best suit your house and garden. Certain styles are ideal for traditional houses, though nowadays you should feel free to style your additions the way you like – traditional and modern are a popular new mix!
The size and shape of your conservatory
What will you want to put in your conservatory? It is crucial to know how you will be using the space and what this will mean in terms of the furniture and fixings you have in there. The plugs, lights, heating and everything else will have to be thought out in advance, so make sure you have a general idea of the size and shape of the additional space.
Planning permission
You may not need planning permission for your new conservatory! Generally, unless it is going to extend very far into your garden or high up near your roof planning permission is unnecessary. Ask your conservatory supplier whether they think you will need planning permission because it depends on where you live and your particular situation. Either you apply for it yourself or the conservatory installer files the applications and approvals – making it a lot easier for you.
Maintenance
If you are looking to do minimal work and maintenance, aluminium gutters are preferable to plastic, as well is an aluminium roof. Hardwood constructions are more difficult to maintain. Make sure you choose fully air dried oak since it is a lot more durable. It is also easier to maintain than green or partially dried oak. Ask your provider what normal maintenance will look like for the conservatory you choose.
Warmth
A common pitfall of conservatories is that they are too hot in the summer and too cold in the winter – they can retain and lose heat very easily if not properly insulated. To avoid this, you can choose Low-E glass, reflective glass or polycarbonate. Depending on whether your conservatory is facing north, south or is protected by some shade will also factor into the temperature inside.
What do you want out of your conservatory?
What is the most important thing you want out of your conservatory? Do you want to add more light to your home, or retain heat a little better? Depending on what you are looking to add to your home, you will need different materials and styles. Ask your conservatory provider what kind of structure would be best tailored to your needs so you don't end up disappointed.
Will you need any base work?
For the price of different base work projects, see our conservatory prices article. It is important to know the extra work you may need for your conservatory like foundations, boiler vents, tree roots, kitchen waste pipes and adding or removing drainage or water lines. This could greatly affect the final cost of your extension.
Material costs
The cost of the different materials your conservatory is made out of can also depend. As a general rule uPVC is the cheapest material, hardwood is the most expensive and aluminium falls somewhere in the middle.
Avoid paying more than you need to
Since buying a conservatory is a considerable investment of your time, energy and money, you do not want to spend more money than necessary and spend hours trawling through websites trying to find the information that's right for you. By talking to local providers you will get the most up-to-date and personalised information, allowing you to save up to 40% on the final price of your conservatory. Compare up to 5 conservatory providers in your inbox by taking a couple of minutes to fill out this obligation-free form.